A couple of weeks ago I ordered the second in the series of '
Advice to Sink in Slowly
' postcard books. Full of lovely little mixes of text and illustration which, in accordance with the site moto 'pass on personal advice in a creative way'. The first edition was fantastic but I foolishly gave it away as a present - reckless gift giving as it is now perpetually sold out. Anyhow, the second edition is just as good and I am waiting for the right time to send one on its way.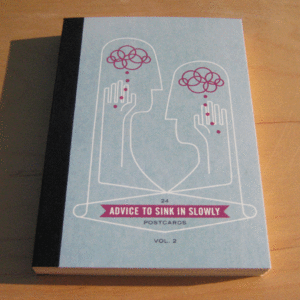 Buy it
here
Coincidentally(?), on the same day it arrived I saw the photos from the '
Advice Portaits
' exhibition by

Maria For
de

. A collection of portraits of her friends and the advice they have to offer their fellow humans. The di
splay is just as, if not more so, simply heartfelt as the postcard book but unfortunately not purchasable in such a format. I am not sure why the interweb is sending so much out of context advice my way at the moment...strange but enjoyable.
Wiley - "Please Recycle"
by Maria Forde


Advice Portraits exhibition found through the always excellent

Needles & Pens

.
..online shop, gallery and local artist supporter.
Check them out.